Best Craft Kits for Kids and Art Gifts Kids Will Love
We've found some of the best craft kits for kids that we think will make great gifts this year.
It's no secret that kids love getting crafty and creating fun art projects. They love to draw, paint, and create sharing their masterpieces with the world. Art and crafts are a fun way for children to express themselves.
Writing is another great way for children to be creative and express themselves. We've done a lot of writing prompts that kids always love doing. You can check out those here: fall writing prompts, middle school writing prompts, Halloween writing prompts, Thanksgiving writing prompts, Christmas writing prompts.
If you are looking for some fun and creative craft kits for kids, we've selected some of the best and most creative kits that they are sure to love. These fun craft gifts are sure to be on their wishlist to Santa!
We also have you covered for finding a gift for the mom who homeschools as well
Hide and Seek Rock Painting Kit: This rock painting kit comes with 10 rocks and everything that kids will need to unleash their creativity.
DIY Knitted Beanie Hat Craft Kit: The Hat Not Hate Quick Knit Loom is part of an anti-bullying campaign that spreads awareness for the #HATNOTHATE. Kids 7+ can help raise awareness by making, wearing, and sharing these blue hats.
Rainbow Sensory Sand Art Kit: Kids will love creating a magical world with colorful sand, glitter, playful stickers, and an adorable mini unicorn! As they are playing they will be developing their fine motor skills and engaging in a unique sensory experience.
DIY Paper Making Kit: Kids will be learning how to make colorful paper with this step by step paper making kit. Once the papers are finished drying, they can be used for home or school projects.
Soap Making Kit: Educational and fun, this soap making kit will be a fun project for kids to do during the holidays or time off from school.
Big Gem Diamond Painting: Kids will have fun painting and creating their bling with this diamond painting kit.
Create Your Own Bead Pets Kit: With this kid, kids will be able to decorate and personalize their very own beaded creations and make keychains.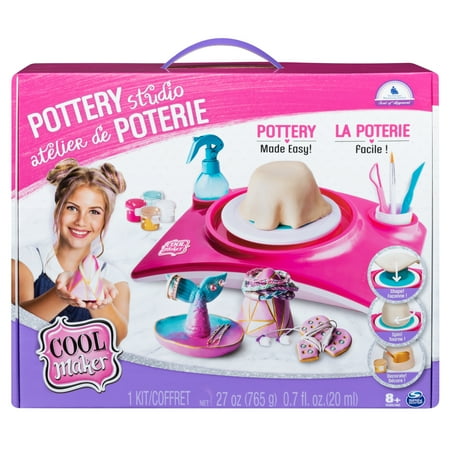 Pottery Studio: A great way for kids to get creative, this pottery studio kit will have children creating fun sculptures that they can create and decorate.
Slime Lab Box: Educational and fun, this Slime Lab Box is made from Green Kid Crafts and will have children creating slime and learning the science behind it.
Hopefully you found some great art and craft gift ideas for your little ones here! If you are looking for some fun DIY crafts that the kids can do at home, you may also like these: